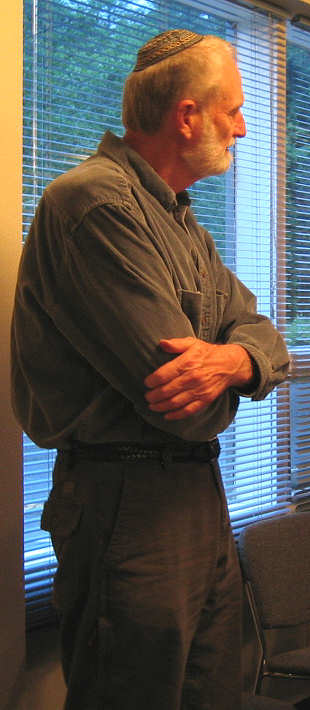 Ross hand-built our Ark Kosher Style – no nails or screws.
The wood is Chestnut that was planted by Coos County pioneers in the Cherry Creek Area,
fell in a storm, and was salvaged and donated by Richard and Danny (K&R Construction, Inc.).
We are so proud of the craftsmanship, love and hours Ross gave to our beautiful Ark.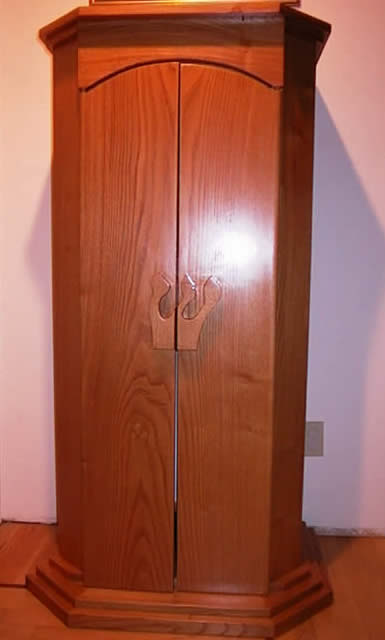 Many of you have asked: "How did you find the Torah?" That question leads to a long, interesting, and beautiful story. Please find following a condensed version.
First of all, let me apologize right now for my inadequacies in story telling. My verbal skills are somewhat limited; but, worst of all, how can I use my hands? Waving here, pointing there,…it's tough to tell a story without my hands! That being said…here goes:
I had been looking for a Torah for our community for well over two years. My tools have been the Internet, the telephone, and, of course, our Rebbe Jackie. Rebbe Jackie was my primary resource, but I have spoken with Rabbis all over the country; from New York to San Francisco to Los Angeles to Portland to Seattle. I have searched Newsgroups in this country, Canada, and Israel. I have spent countless hours on the Internet chasing websites, sending e-mail, and gathering phone contacts. At the same time, my cousin (and Congregation Member) Gil also was looking on the Web gathering information and leads.
I think that you have the idea. I found that a new Torah can easily cost $40,000. I also found that there was a black market in Torahs. I found that not all Torahs are kosher and that repairs can be very expensive. I found that synagogues are not as willing as I thought, or hoped, to donate a "spare" Torah; the Torah is part of the history of the congregation, part of its life. A couple of times I got close to one, but the best deal that I found was about $4000 and almost that much required for repairs. After two years, we only had about $1800 in our Torah fund. I have to admit I was getting discouraged.
One day at work, where Gil and I are partners, Gil was shopping by phone for recess light fixtures in southern California. During a conversation with a young man named Kevin, they discovered that each of them is Jewish. Kevin expressed curiosity about our Jewish religious life in rural Southern Oregon and Gil said he should talk to me. While "chit-chatting", he discovered that we met in a church and questioned me how we could "handle" that. I told him that meeting in a church wasn't so bad; we'd love to have our own building, but the people of the church were very nice and made us feel very comfortable. I told him what really bothered us was not having a Torah.
"No Torah?" he replied. "My God!" I could actually hear the tears in his voice. He told me of a woman he knew, the mother of his childhood friend, who he said was very "special" and active in their congregation. "Maybe she can help" he said, "Perhaps the Congregation will start a fund or something for you. You must have a Torah". He gave me the woman's name and phone: Miriam.
After the first phone conversation with Miriam, even I knew I was speaking with a very special woman. She is very active in her Congregation, Director of Religious Education for her temple, experienced, dedicated, knowledgeable, compassionate; all with a wonderful laugh and a great sense of humor. I told her our budget (which now was up to $2600 because of a couple of recent substantial contributions). Miriam promptly found us a Torah from a legitimate vendor, she set up a scribe to make basic repairs, she kept contact with the vendor, the scribe, and myself, and even negotiated the price for the total to fit within our budget. This even included two torah covers, one for everyday, and one for High Holidays, plus money left over for travel. After all this, she thanked me for allowing her to perform this mitzvah!!! She also reminded me not to feel we "owe" her anything; by doing so we would be degrading the mitzvah.
Miriam's closing line in the last letter she sent me is as follows:
"I thank God for granting me the opportunity to help you with this Mitzvah. I pray that I would be able to realize all your hopes and wishes." What more could I say after that?
So, in closing, we all need to thank all of us that have contributed to the Torah fund, to our Rebbe Jackie, to my cousin Gil for his efforts, to Kevin for his concerns, to Wolf Daniel for taking off of work to transport our new Torah, to all of you who have been supportive, but mostly to Miriam, who has helped us achieve our dream and given our Congregation a soul.
Thank you, Miriam.
Lovingly & B'Shalom,
Grant Cousens,
Congregation Mayim Shalom